post What's the point of a beta test for a video game these days, other than to drum up publicity? The makers of upcoming PlayStation 3 game ModNation Racers say it got them to add a feature.
During the Game Developers Conference earlier this month, game producer Dan Sochan told Kotaku that the public beta tests of ModNation Racers gave the game's developers 1,000 bugs to squash. And it gave them the nudge they needed to add four-player splitscreen multiplayer to the game.
Four-player split-screen gaming was all the rage over a decade ago on the Nintendo 64 and then on the Xbox. But even two-player splitscreen is rare these days in games of any genre. Online multiplayer has replaced it, and, while ModNation Racers is emphatically a game to be competed in online, it will now support some classic four-player couch play.
Sochan said that the development team at United Front Games had been running out of time to add four-player splitscreen to their game. But the demand for it caused the studio to reassign some tasks internally and get some folks on the feature.
So if you're wondering what the point of the ModNation Racers public beta was other than promoting the game and stress-testing the multiplayer, split your TV screen four ways with the game when it ships in late May.
G/O Media may get a commission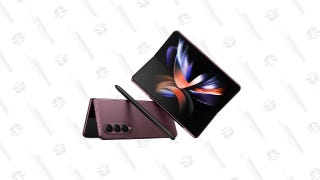 Save Up to $300
Galaxy Z Fold4
And if you were one of the users of the public beta who asked for this feature, I'm sure a few folks out there would like to say "Thank you."