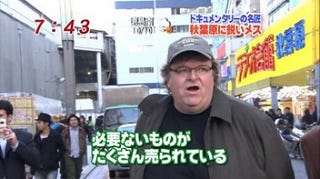 It's Tokyo's geek mecca — Akihabara. Games shops, arcades, manga, anime, figurines and maid cafes. You name it, they just might have it. A Japanese TV program gave filmmaker Michael Moore a tour.
The above image has a Japanese subtitle of the director offering this insight: "Lots of unnecessary things are being sold here."
He also noted, "Shopping may brighten the spirits, but they're just fooling themselves." Yes, fooling themselves by buying plastic models of giant robots.
When Moore visited a maid cafe and got the standard "Welcome master" greeting from the maids, Moore replied, "I'm not your master! Everybody's equal." Not in a maid cafe, Michael Moore!
Good thing nobody told Moore that maids charge otaku 500 yen ($5.50) to play paper-rock-scissors, right?
マイケル・ムーア監督秋葉原へようこそ [灯里のブログ via Sankaku Complex]