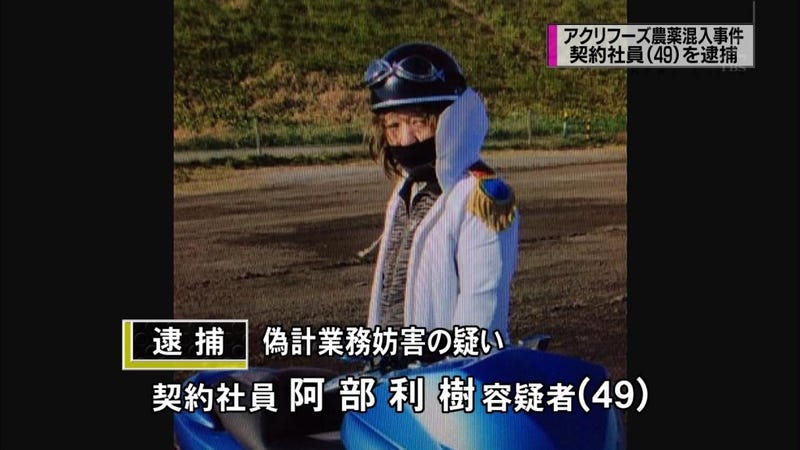 Police arrested 49 year-old food factory worker Toshiki Abe for lacing food with pesticide, reports Yomiuri Online. Prior to his arrest, the suspect was apparently known for something else: One Piece cosplay.
After the poisoning was discovered, food company Maruha Nichiro Holdings recalled over six million packages of food late last month, notes News.Com.Au. As many as 2,800 people in Japan complained of mild poisoning symptoms, such as vomiting and diarrhea, after eating the food products believed to be poisoned. Complaints first started in November, and Abe allegedly poisoned food at the factory where he worked on four occasions last October.
The Japanese media is now reporting that the suspect was well-known in his home town for wearing One Piece duds. In Gunma Prefecture, where the factory was located, Abe was often spotted at the local mall, dressed as an Admiral from One Piece. Here's the costume he often wore:
The back of the coat reads, "Justice" (正義 or "seigi").
And here are photos of him out and about. No wonder he was apparently known as "The Old Admiral Dude."
Jiji Press reports that Abe moved to Gunma Prefecture years ago with his wife and son. Neighbors said they never had any trouble with Abe—that he helped with cleaning up the neighborhood and appeared to be a hard worker. One neighbor, however, recalled that Abe apparently would blast "superhero music" from his motorcycle.
Abe has denied poisoning the food.
農薬混入、阿部容疑者を送検…偽計業務妨害容疑 [Yomiuri]
Toshiki Abe arrested for poisoning frozen food in Japan [News.Com.Au]
Japan food pesticide scare: Factory worker arrested [BBC]
マルハニチロの冷凍ピザに農薬を混入した犯人がヤバすぎる件www[まとめ]
To contact the author of this post, write to bashcraftATkotaku.com or find him on Twitter @Brian_Ashcraft.
Kotaku East is your slice of Asian internet culture, bringing you the latest talking points from Japan, Korea, China and beyond. Tune in every morning from 4am to 8am.