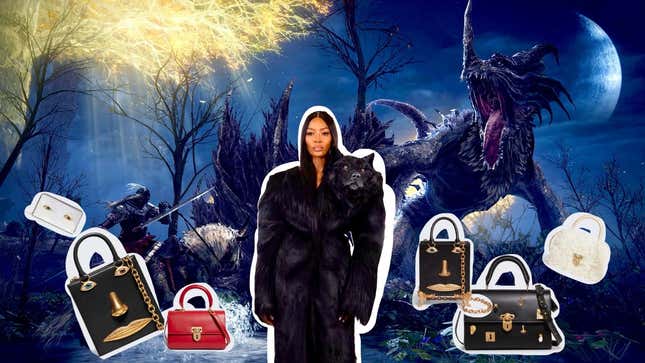 I consider myself a FromSoftware fashion girlie in the purest sense; I know my gravekeeper cloaks from my crimson hoods, and a Dior saddle bag from the Fendi baguette. This crossover knowledge is rarely practical, but is occasionally useful for declaratives. Like, I'm sure that Schiaparelli is pioneering FromSoftware haute couture, and creative director Daniel Roseberry proved that with the French fashion house's latest spring/summer collection.
Maison Schiaparelli, which has pink history in avant garde, has been particularly gold and fantastic since Roseberry took over in 2019. He's good at mining Schiaparelli's surreal design history to help him turn women's bodies into pure, complicated metal—her lungs into trees, her ears an accessory. In the past year, the year of FromSoftware's epic poem of an open world game Elden Ring, Schiaparelli has been particularly gilded, structured, and strange. It's hard not to see the resemblance. Schiaparelli and Elden Ring are both putting forward austere art that is as doused in a daydream as it is in cold mystery, like a cloud of unrecognizable perfume you get caught in in the street. You can't stop thinking about it. Neither can I.

Why don't we take a closer look at Schiaparelli and Elden Ring's fashion similarities?