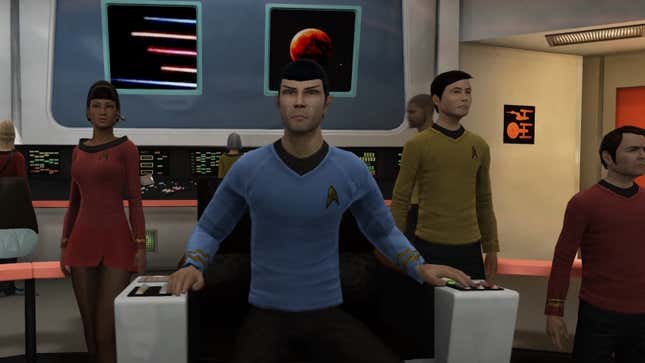 As the final fan-service-strewn season of Star Trek: Picard comes to an end, confusing everyone by not being absolutely awful, you may well be in the mood for some more Trek before the return of Strange New Worlds in June. But rather than heading to Netflix and struggling through the first three seasons of Deep Space Nine all over again, what about dipping into its rich history of video games?

There have been, depending upon how you count, approximately 47 official Star Trek games. Go back into the Wild West of the '70s and '80s and that number shoots up when you include the unlicensed, unofficial titles. This is, officially, too many. Fortunately, we have the authority to whittle the number down to a more manageable eight, in our legally binding list of the best among them.
While it's fair to say that Star Trek games have not exactly gained the nostalgic prestige of Star Wars properties, that doesn't mean there isn't gold-pressed latinum to be found among them. Sure, it's hard to argue there's anything that can measure up against TIE Fighter or Dark Forces, but then nor is there really in the rest of gaming. But games like Elite Force and Judgment Rites showed that TV's corniest license could offer a basis for some top-notch entertainment. More than you'd think, in fact, as hopefully this list—in no particular order—will demonstrate.