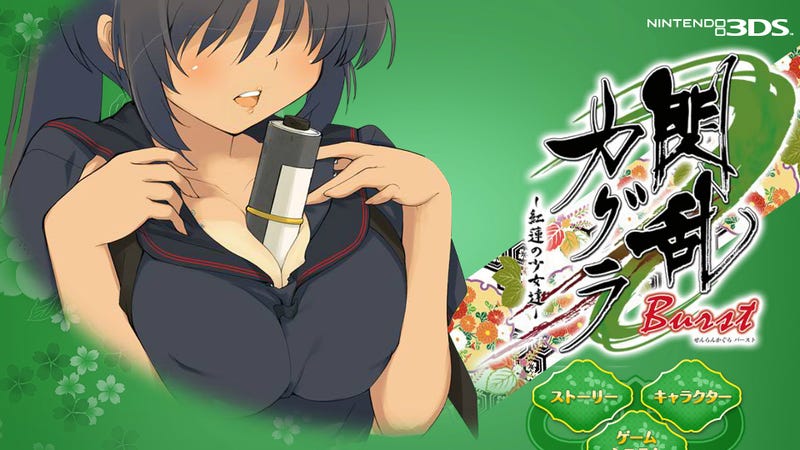 Continuing its interview series with various game creators, this week Weekly Famitsu sat down with Kenichiro Takaki of Marvelous AQL to talk about his thoughts for the future.

Takaki is famous for his hand in busty babe-featuring games like the Battle Vixens series, and the Senran Kagura series, as well as the non-busty babe-featuring Half-Minute Hero series. Nicknamed the "Bakunyuu (爆乳: huge boobs) Producer," Takaki came up with the Senran Kagura series by looking at the Nintendo 3DS and instantly deciding that what he wanted to see most with the new technology was boobs. The sequel, Senran Kagura Burst is scheduled for release in Japan on the 30th of this month.
Talking about his popular Senran Kagura series, Takaki explained, "In the current market, it's difficult for an original title to sell well. But, if it's a character-centric game, it's easier to increase the popularity with peripherals like anime, manga, and goods." He added, "This makes it easier to make sequels." A fairly successful business model that indeed has led to the development of the sequel, Senran Kagura Burst as well as a new anime. Takaki also added that he expects the Senran Kagura franchise to have more sequels and that further plans are currently in development.
When asked what he looked forward to in the evolution of hardware, Takaki said excitedly, "I'd like for something like a holographic technology that would have girls pop out of the screen!" On a more serious note, he added, "It wouldn't have to be girls; something like having a soccer ball pop out of the screen that you could manipulate with your fingers would be interesting. I believe that freeing players from the confines of the controllers would allow games to evolve." I'm sorry, all I heard was "interactive, holographic, big-busted girls..." The rest is kind of fuzzy.
ファミ通.com [ファミ通.com]
---
Kotaku East is your slice of Asian internet culture, bringing you the latest talking points from Japan, Korea, China and beyond. Tune in every morning from 4am to 8am.