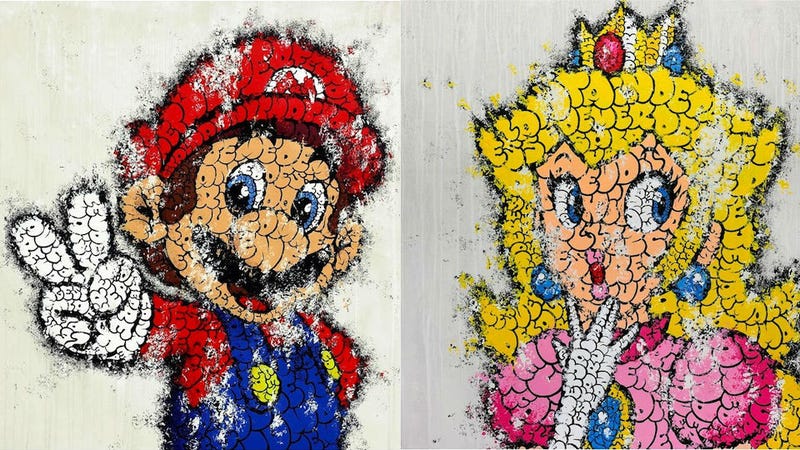 Hello, Kotaku!
Let's dive right into the bests this week, starting with the image above. Mario and his cute princess are featured above, in the form of very interesting graffiti art. If you look closely you can see the bubble letters that make up each part of the drawings. Thanks to XombieDIRGE for finding the image!
Moving on to our Best Of content this week, we kick things off as usual with a comment from the community.
If you want to see the list of nominations (and other random conversations) you can head to my most recent nomination post that goes up every Friday here.
Want to suggest an article, comment, tweet, or any other content on Kotaku to be featured for a weekly Best Of nomination? Drop me a line at tina@kotaku.com with the subject line of "Best Of Nomination." Or any other subject line that will help me sort through and search for them. I'm not too picky.
---
This week's winner is Shagittarius, who wins for reasons of perverse comedy:
The problem is when you masturbate the screen scrolls up and down.
But Ashley Parker gets a win this week, too, for an awesome joke:
I want to play a game where you get to play as Jack Kirby saving the day, and then the next day's Daily Bugle headline is "STAN LEE HERO OF NEW YORK".
---
Kirk Hamilton writes a tribute to Joss Whedon and his recent success with The Avengers. More »
---
Stephen Totilo explains why he loved his Mass Effect 3 experience and ending. More »
---
Carnegie Mellon professor and Molleindustria developer Paolo Pedercini explains what's wrong with the Black Ops II marketing campaign. More »
---
Luke Plunkett is sick of these MMOs, and they need to die already. More »
---
Stephen explains the new Facebook game from the creators of NBA Jam. More »
---
Evan Narcisse gets us exclusive art from Victories, whose artist also did work for Powers. More »
---
Kirk has a laugh over Wal-Mart's online product description for Diablo III, which reads like something out of a grade school book-report.More »
---
Patricia Hernandez interviews the creator of Polymorphous Perversity, an RPG game that spares no censorship with sex. More »
---
Stephen wonders if our Twitter friends were jerks to begin with, or only jerks on Twitter. More »
---
Owen Good shares one transgender employee's transition at EA Sports. More »
---
Luke shares his opinion of how pre-ordering games are a problem. More »
---
Stephen gives you a play-by-play of the new Assassin's Creed III gameplay trailer. More »
---
Kate Cox previews the upcoming Civilization V expansion. More »
---
Jason Schreier reports on Xbox 360 Minecraft players who can't splitscreen without HD TVs. More »
---
Mike Fahey jumps into The Secret World's press beta and learns eight new things. More »
---
Patricia examines the hip-hop artists rap about nerd culture, and the ones that don't quite fit in. More »
---
Kate tells us the touching story of how she buys her mother video games every Mother's Day. More »
---
Jason examines the social aspect of JRPGs, and how great characters can suffice fill in those roles. More »
---