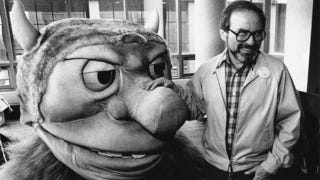 This has been a brutal year for many people's fondest childhood affections. First Star Wars visionary Ralph McQuarrie dies, then French comics legend Moebius passes away, and now we have the sad news that Maurice Sendak, the creator of children's stories such as Where the Wild Things Are, has died at age 83.
Sendak will of course be primarily remembered for the above-mentioned classic (it never ceases to blow my mind it was first published in 1963), but for me, his most lasting contribution was in writing my absolute favourite book as a small child: In the Night Kitchen.
About little more than a boy dreaming about a magic kitchen, where dough becomes fantastic contraptions like aeroplanes, it's been strangely controversial in the US (thanks to the star sometimes showing his naked little butt), but was cherished in my home due to the ridiculously charming story and artwork - also provided by Sendak - which looked good enough to eat.
In a career spanning over 50 years, the Brooklyn-born Sendak would not just write and illustrate children's stories, but also work in books and TV, where he once teamed up with, who else, Jim Henson.
Sendak passed away at his home at age 83 following complications after a recent stroke he suffered.
Fans of his work, or those interested in finding out more about one of the legend's in children's literature, should check out Gregory Maguire's Making Mischief, a recently-released collection of artwork and writings on Sendak's work.