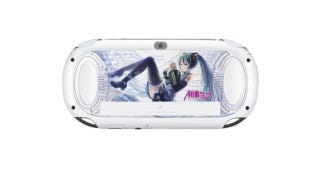 One of the PlayStation Vita's most interesting features is "rear touch"—the Vita's backside touchpad controls. This newly announced, limited edition PlayStation Vita features virtual idol Hatsune Miku on the Vita's back, which is prime touch real estate.

Out Aug. 30 in Japan, the Hatsune Miku Vita bundle comes in two flavors: ¥39,980 (US$501) for the 3G/WiFi model and ¥34,980 ($438) for the WiFi only version. Both bundles are packaged with a 4GB memory card, an original design protector screen, an original design AR card, and a copy of upcoming PS Vita game Next Hatsune Miku Project Diva (fyi, that's a temporary game title).
The limited edition Hatsune Miku is a Miku-covered version of the newly revealed Crystal White PlayStation Vita. No wonder yet on a Western release.