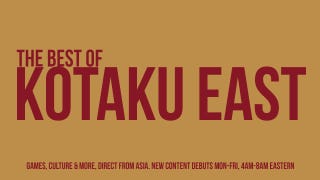 Since 2005, Kotaku has unabashedly covered Japan from Japan, breaking news and providing a boots-on-the-ground look at the country's gaming and geek culture. The site's name, "Kotaku", is even from a made-up Japanese word with "ko" (小) meaning "small" and "otaku" (オタク) meaning "geek". Voilà, Kotaku!

But Kotaku East takes that several steps further. With reporters and writers in Asia, Kotaku East explores stories that range from interesting and illuminating to surprising and shocking. In Kotaku East, nothing is considered off-topic-just as nothing should be.
Whether it be breaking game news, game impressions, or non-game related cultural pieces, Kotaku East provides a daily look at the stories and the trends that netizens throughout Asia are talking about as well as original pieces that reflect the zeitgeist in which they are written.
But there's still much more to Asia than these three countries. As always, Kotaku-especially Kotaku East-is more than happy to receive tips (tipsATkotakuDOTcom) from readers residing throughout the region.
For those who want to tune in (or tune out), Kotaku East runs Monday thru Friday, 4am to 8am EST. Kotaku East stories will appear in the sidebar to your right, with the latest ones appearing top to bottom. Consider this your daily passport.