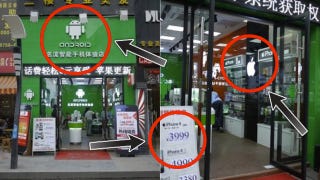 One small phone retailer in Zhuhai, China decided that it wouldn't be enough to re-create an Android brand shop that aped the Androidland shop in Australia. No, this shop must also carry (real?) iPhones.

Apple's iOS and Google's Android are rival platforms.
Last summer, fake Apple Stores appeared in China. According to website TechInAsia, this retailer, however, might catch a break because Google seems less prone to litigation in comparison to Apple's itchy lawyer fingers.
Android Store in Zhuhai, China [Isidor's Fugue via TechWeb [TechWeb via TechInAsia]