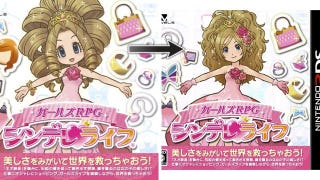 Upcoming Nintendo 3DS role-playing game for girls Girls RPG Cindere Life featured a hostess-type heroine with heroine with comically huge eyes. "Featured" because at some point, the game's developer changed them.
The new character design still features a big-eyed lady, but nowhere near as large as previously.
Girls RPG is being developed by Level-5, the studio behind Professor Layton, and will be out this March in Japan. Read more about the game here.
ガールズRPGシンデレライフ [がめログ]