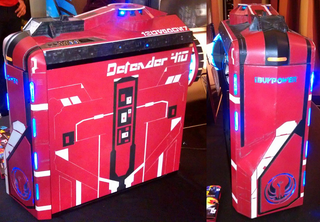 If you're a Star Wars fan and a PC Gamer, there's a good chance that The Old Republic has consumed your life for the past month or so.
Well, if the fine folks over at iBUYPOWER have anything so say about it, this is the PC case you've been looking for.
Now, I know what you're thinking. "Where can I buy this and where is the Sith version?!"
Unfortunately, iBUYPOWER created this case specifically for their swanky party at the Palms during CES and currently has no plans to put it into mass production. Worse yet, no Sith version even exists! Those Republic bastards!
However, if enough Star Wars fans demand it, I'm sure iBP could be swayed to put this baby up for sale and customize it to your heart's desire. I've even taken the liberty of providing you with this image to send to them on behalf of SWTOR players everywhere:
Headline conceived by Stephanie Gutowski
Meme created by Chad Lakkis