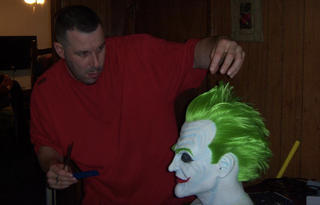 No, The Joker isn't getting a haircut. But it sure looks like it! The folks from Slabworx, a small, independent mask maker, are doing what they do best: making a mask.
According to Slabworx, it makes its masks from high grade silicon. The pictures are nice, but stick around for the video to see the Batman: Arkham Asylum inspired Joker mask in action. Know what else is nice? That fish tank.
Slabworx [Facebook Thanks Heather for the tip!]
---
You can contact Brian Ashcraft, the author of this post, at bashcraft@kotaku.com. You can also find him on Twitter, Facebook, and lurking around our #tips page.