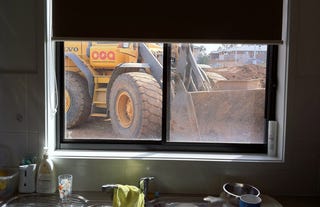 To: Brian
From: Luke
Last year, I moved into a brand new house in a brand new suburb. Pros: everything in the thing was brand new. The cons? The suburb is a work in progress, a point which came screaming through my bedroom window this morning at 6am when the block next to mine, empty for two years, finally sprang into life. I'd expected construction crews nextdoor to be disruptive, but opening the kitchen window at 6am to see this is taking the piss.
Anyway, here's what you missed while I spent the day searching for earplugs:
Report: Nintendo 3DS Hardware Specs Revealed
That's One Way To Sex Up Team Tennis
Why I Won't Be Liveblogging The Tester Season 2
Weta Is Making Halo: Reach ATVs (And You Can Have One)
Blizzard Making Its Own Starcraft II Mods
The Dante That Almost Was
Retro Games vs Modern Games, To The Death!