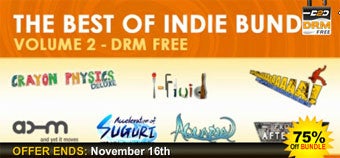 Online PC store Direct2Drive, flush with cash from their first "Best of Indie" bundle deal, have decided to offer another, with seven great games at 75% off.
The Best of Indie: Volume 2 includes Crayon Physics Deluxe, Aquaria, Aaaaaa!, I-Fluid, And Yet it Moves, Project Aftermath, and Acceleration of Suguri. All told, these seven games go for $94.65 purchased separately, but until November 16 you can get them all for $25. And DRM-free, to boot.
Crayon Physics is almost worth that alone, so yeah, this is a good deal.