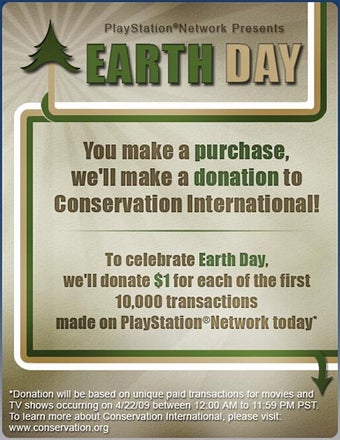 Tomorrow is Earth Day, and what better way to show your appreciation for our planet's environment than staying in and buying a bunch of movies from the PlayStation Store?
The first 10,000 movie and television show purchases made from the PlayStation Store tomorrow will generate $1 a pop for Conservation International, a non-profit organization dedicated to keep the outside world as pretty as it looks from the safety of our couches. I suppose you could open a window and let a breeze roll through your living space to help you appreciate the donation you'll be making towards the cause.
The PlayStation Store will also be featuring a special Save Our Earth collection, containing movies that feature our efforts to protect the Earth from those who would destroy it. Titles such as Cloverfield, Hancock, The Abyss and The Day After Tomorrow are included in the collection, reminding us that we need to do all we can to keep our superheroes sober in case of giant monster attacks on New York.
In honor of the holiday, Sony has also announced that Japanese trash stacking game Gomibako will be coming this spring to the PlayStation Network as Trash Panic, a game where you put rubbish in a bin.
So enjoy Earth Day the PlayStation way. I'll be out in the woods smearing cake on trees if anyone needs me.
Team up with PSN on Earth Day [PlayStation.blog]