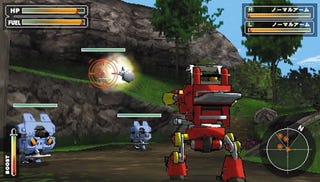 Atlus brings more Steambot to the PSP this summer, announcing a North American release for Irem's Steambot Chronicles Battle Tournament.
Released in Japan as Steambot Chronicles: Vehicle Battle Tournament, the new PSP title places players behind the controls of a Trotmobile mech, as a young gladiator looking to make a name for himself. Pick your missions, upgrade your parts, and battle other players in 4-player Ad Hoc wireless battles, complete with game sharing for those whose friends are too cheap to get their own.
Perhaps due to the recent string of delays, Atlus has announced a much more reasonable release window of later this summer for Steambot Chronicles Battle Tournament, rather than announcing the exact date and then pushing it back at the last possible moment.