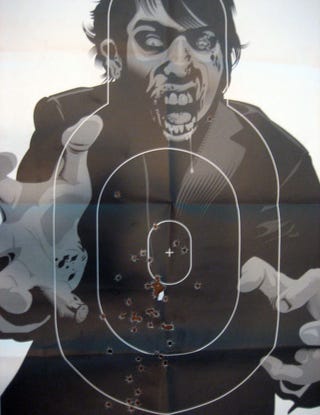 Just in case you didn't feel like getting up at the crack of dawn to follow the kick off of our Captivate 08 coverage, highlighting Capcom's upcoming wares like Resident Evil 5, Street Fighter IV, Bionic Commando and more, here's a helpful wrap up of everything we posted today. There may be more stragglers coming tomorrow, so check in on our Captivate 08 tagged posts for everything. For full disclosure on the swag that Capcom handed out—coming to a Kotaku giveaway near you!—plus details on that zombie target, make the jump.
First Resident Evil 5 Gameplay Impressions

New Details On Street Fighter IV's Home Versions

Capcom Announces Spyborgs For Wii

Bionic Commando Hands-On Impressions

Street Fighter IV Trailer Features New, Classic Characters, Grating Voice Over

Dark Void Gameplay Impressions

Hands-On With Street Fighter IV: The Final Arcade Version

Capcom Giving Neopets The Puzzle Quest Treatment

Street Fighter IV's Sandy Summer Fun Trailer

Resident Evil 5 Not Redesigned After Race Criticism, Says Producer

Bionic Commando Multiplayer In Action

Hands-On With Wolf of the Battlefield: Commando 3 And 1942: Joint Strike
In addition to a Capcom branded Lexon Tykho radio and Jabra Bluetooth headset, the publisher handed out goodies bags that we decided to pass on. Bionic Commando producer Ben Judd was nice enough to give us a handful of Bionic Commando tees as well as some sage advice. Capcom also treated us to some sub machine gun fire at a Las Vegas gun club, complete with Resident Evil zombie targets, the results of which can be seen above.
Meals and drinks were also provided by Capcom. Any questions?