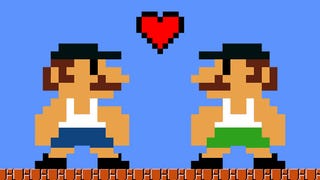 I wish that the first time I had sex with a man had been in a video game. Instead, it was the second. And he really wasn't a man at all, so much as a bundle of pixels and sprites.
That's why I wish I could've done things differently, though. Because the first man I had sex with was very real, and so were the risks and consequences. I was completely safe with the second one, the virtual one. Playing as a character, being another person, I could have very easily gotten up and left the avatar at the table where he propositioned me. Or if I'd really panicked, I could've pulled the ultimate eject maneuver and just turned my PlayStation off.
I was free to get up and walk out of the bar in real life, too. But just meeting the man in the first place was dangerous in a way I didn't fully appreciate until I began to learn from him and his friends what gay life was for them. I was studying abroad in Jordan, which at the time had a relatively relaxed attitude toward homosexuality compared to some of its close neighbors. But the men I met there still spoke bleakly about being excommunicated or abused by their families. Murder and imprisonment were tangible, if not immediate, threats. And that's saying nothing about returning to college and my girlfriend there a few months later, harboring what felt like a nasty secret.
What was I thinking? There was an allure in breaking the rules. But, really, I needed to find out what being gay might mean for me. Seeing what the word meant when I took it inside, feeling how it fit when finally laid on top of my body.
That could have meant my real body. But it didn't have to, not at first. I didn't need to jump straight into the deep end. I only did so, like I imagine many young men have, because I felt like I was being pushed.
"Gay" was a word I was terrified of, consumed by for a long time before I got to college. My Freshman year of high school, a group of boys picked on me so aggressively that our administrators coined the school's first rules against cyberbullying. They kept calling me it, but I had no idea what gay really meant at that point. I'd barely had my first kiss.
---
There's pride to be taken, even in insecurity.
---
Eventually, I started dating girls. But that didn't wash away the shame and residual fear. There was something about the way one of the boys in that circle would say the word, "gay," pointing at me with his pencil from across the table in science class. It shook me in some murky place I was scared of. He said it so often, and he sounded so sure every time, that I started to wonder: what if he's right? I certainly didn't feel like I had all the answers, and here was somebody forcing one down my throat over and over again.
What I didn't know how to say to my classmate, what took me many more years and bad decisions to realize, is: I'm not gay. I've been bent out of shape enough times that I'm not sure I necessarily count as "straight" either. But at least I can understand that doubt now, even enjoy it.
And why shouldn't I? These terms don't really do much for me anyways. They're the farthest thing from my mind whenever I'm actually doing most of the things that supposedly warrant such incessant classification. There's pride to be taken, even in insecurity.
This whole process of self-discovery could have happened another way, however. It could have been like the moment I just alluded to. The game was Mass Effect 3, and it was the thrilling final act of an epic space opera on the scale of Star Wars. Before the third game came out, developer BioWare said that men would finally be able to romance other men. I didn't know what exactly that meant when I picked the game up in 2012. Then, one day, my stubbly and masculine protagonist Commander Shepard was sitting down at an outdoor cafe when he was approached by Kaidan Alenko, an old military buddy.