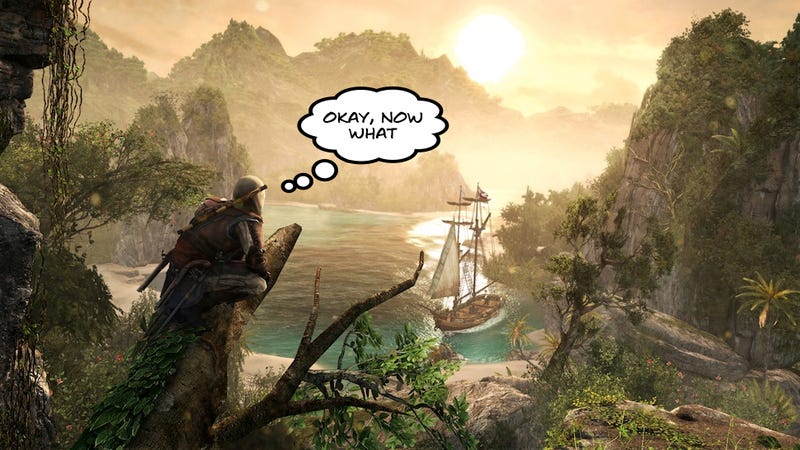 Assassin's Creed IV: Black Flag is a vast game. Edward Kenway's groovy pirate adventure will likely devour the free time of more than a few history buffs over the next few weeks. But while all pirates sail the same seas, not all of them are as smart about it.
After spending 30+ hours adventuring through Black Flag's version of the Caribbean, I thought I'd jot down some tips to help everyone else have smoother sailing. Ready? Let's go.
Play online, if you can.
I played the bulk of Black Flag more or less offline on a debug PS3, and after talking to Stephen (who played a retail version of the game online), it became clear that playing online makes it a lot easier to make money. That's because the game contains online-only "social challenges"—gold-laden ships, hidden treasure and rare harpooning challenges that open up and offer you fabulous cash rewards. Stephen had a much easier time paying for the upgrades he needed in the early goings than I did. The "Fleet" minigame, additionally, is only available online. I found it too tedious to sink much time into it, but it does seem like it could be a decent source of income if you dedicate some time to it.
That said, if you want to make the game more of a challenge, play offline. I can attest that it's doable, it'll just mean more grinding for less money in the early goings.
Don't reduce your wanted level.
Money won't be too much of a problem as long as you're playing online, but materials will be. You'll need lots of metal to upgrade the Jackdaw and her guns, and the easiest way to get that is by boarding and sacking military ships. However, those can be hard to come by in the early goings… unless you get a wanted level. After you take out a few ships, you'll get a GTA-style wanted ranking and red-sailed "pirate hunters" will come after you. These ships always have metal, and can be a great way to farm for upgrade materials. After taking one down, you'll have the option to reset your wanted level, but don't do that. Let it keep climbing, and keep on taking down ships. In about an hour, you can earn a ton of metal and even if the high-level mega-ships that eventually come after you take you out, you won't lose any of your earnings.
Sail a lot in the early goings.
One of the best things about Black Flag is that there's a new, incredibly useful fast-travel system. In the early goings of the game, you'll have to sail a lot to get where you're going. This is good: Be sure to sail over and pick up any loot you may pass by. It's very a cinch to grab it and it'll add up.
Take out a lot of ships, too.
You may want to power through the story missions of Black Flag, but it's worth taking the time to do some real piracy. If you take down a bunch of ships, it'll be much easier to upgrade the Jackdaw for the more difficult later missions. Also, piracy is fun.
Level up your swivel guns early.
Of all the upgrades you can give the Jackdaw, armor and main cannons seem like the two most useful. And they are useful. But the swivel guns—the guns that automatically target an enemy ship's weak points after scoring a hit with cannons—are the Jackdaw's secret weapon. They're the thing that allows you to take down three powerful ships without sinking yourself. Upgrade them as soon as you can to do more damage and fire more shots.
Use the swivel gun before boarding.
You've got a lot of freedom when it comes to boarding ships, but before you leave the Jackdaw, be sure to take the enemy-facing swivel gun and take out as many crew members as possible. It's surprisingly easy to get killed while swordfighting on the enemy deck, so the more dudes you can kill before leaping over, the better your chances will be.
When fighting more than one ship, board and repair mid-fight.
This is a tricky trick for tricksters, but it makes it much easier to survive a pitched sea-battle. If you're taking on more than one high-level ship, focus your attention on just one of them. Cripple it and board it, and when given the option, choose to repair your ship. Voila! It's like grabbing a health-orb in the middle of a fight.