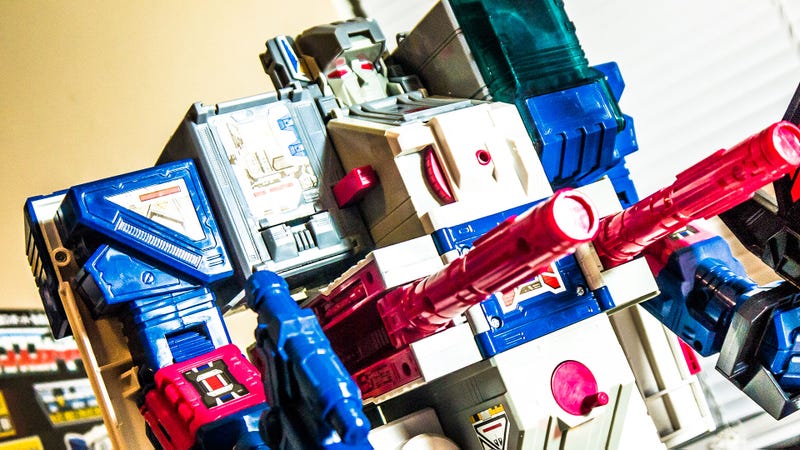 The late 80s was the best time to be a toy-obsessed child. Back then toy companies weren't afraid to release a toy that looked like a gun, contained toxic paint or weighed more than the kids it was being marketed to. It was a time when Hasbro, a couple years after releasing a toy aircraft carrier that measured more than seven feet in length, gave Transformers fans the largest official Transformers toy on the market for more than 25 years — Fortress Maximus. I missed his initial 1987 release. I missed his 2000 re-repaint as Car Robots Brave Maximus. I did not miss his 2013 Encore re-release. Being an adult kicks ass.
In my social circles as an early-teen in the late 80s, I had several friends who claimed to own Fortress Maximus, but oddly enough, none of them ever let me play with him. They'd come to my house to play with the original Metroplex toy, sure, but when it came time to return the favor, they were strangely hesitant. I'm sure he was just locked away in their closets, because children never lie about such things.
For decades I pined after this massive, 22-inch-tall beauty. I'd see him behind counters at science fiction and fantasy conventions. I'd catch glimpses of him in toy magazines. The internet came along, and suddenly I could stare at pictures of him when I wasn't surfing porn, and my hunger only grew. In 2000 I saw the Car Robots repaint boxed up in a hobby shop, but they wanted $200 for the Japanese import — $200 more than I could afford at the time.
The only time I got close enough to touch a Fortress Maximus was during a visit to Epic Games in North Carolina last year, where I was delighted to discover not one but two of the figures in Jazz Jackrabbit creator Cliff Bleszinski's uninhabited office. Upon discovering Fortress Maximus was too large to stuff down my pants, I went back to yearning.
This year the stars aligned. I found myself with a little extra cash around my (40th) birthday, just as Takara's re-release of the figure was going wide in Japan. After much hemming and hawing I pulled the trigger. I won't say how much I paid for the figure, but I will say it was easily more than three times the first generation version's $89.99 retail price.
Just how big is Fortress Maximus? In robot mode he stands at around 22 inches tall, not counting his Master Sword (an affectation from the Japanese G1 cartoon series). To put that in perspective, here's Fortress Maximus next to a Nintendo 3DS XL.
And here he is next to my nearly two-year-old son.
And here he is behind the tallest Transformers in my modestly extensive collection.
He's bigger than Car Robots Omega Prime (my favorite Optimus Prime variant). Burlier than Air Attack Optimus Primal. More massive than mildly broken Unicron (I need a new Unicron). More powerful than Energon Omega Supreme (that's a regular Omega with tomatoes and sour cream). He's the biggest Transformer there is, and he will remain so until Hasbro releases its 24-inch Transformers: Fall of Cybertron Metroplex later this year.