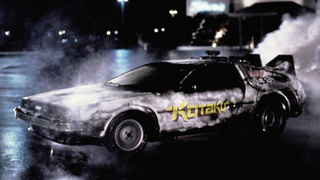 On the occasion of Kotaku's 10th anniversary earlier this month, I'd like to tell you all about a big change we've been working on since June. If you've been paying really close attention to the site you might have already picked up on it. But probably not. It's been a slow but, I think, essential change.
Short version: While we remain a site that puts gaming first and will continue to tell you about the most interesting games as soon as possible, we are shifting from what has been a heavily pre-release approach to covering video games to one that gives a lot more attention to games after they've been released.
I described this shift in an e-mail that I sent to Kotaku staff on June 16. Here's a key excerpt:
The future of games coverage is in the present. For too long gaming coverage has focused on the vague future, the preview mindset of possibilities and maybes. And when it's involved the present it has been drenched in the dreary falseness of empty interviews, bland producer-speak and executive-hype. It's neither been real enough nor true enough to what is actually happening now. For too long games reporting has involved staring at what is opaque, maybe glimpsing something through it and reporting about that possibility, all the while ignoring so much of what is clearly visible and exciting around us.

I believe there is a better way to cover games, one that puts future-based coverage and executive interviews in proper diminished proportion. We must focus on the games that are being played now and the human beings—the gamers, mostly—who are doing interesting things with them.

Millions of people are playing games right now. They are having amazing experiences in these games. They are discovering fascinating, crazy, and/or scandalous things in them. They are celebrating funny discoveries and raging at emerging bullshit. They're doing this on YouTube and Twitch, on Reddit and on forums. They do it here, too, though we've not given them much space to do so. Most of this is missed by the games press, however, because the games press focuses too much on covering games before the real world touches them and too little after games are released. Exhibit A in that is that people are assigned by their editors to play and write about a game before it comes out in order to review it and are just about never assigned to do so afterwards. They abandon writing authoritatively about a game as soon as it is released. This is archaic and an insult to gamers. This is changing at Kotaku as of now.
What This Means
As I alluded to in the June e-mail, and as we began doing in the days that followed, all full-time writers at Kotaku are now assigned games or franchises that they're expected to cover post-release.
To give you an example of how this works, Kotaku writer Mike Fahey was assigned to review Mario Kart 8 back in May, but, since then, Yannick LeJacq has been assigned to keep playing it, keep an eye on the Mario Kart community and continue to file stories he finds interesting.
If this sounds like a no-brainer to you, trust me, it's not. Most gaming news and opinion outlets, including Kotaku, typically drift away from covering even the biggest games within a couple of weeks following those games' release dates. And, sure, we and other gaming outlets covered the Luigi Death Stare meme after the game came out, but it was thanks to Yannick's attention that we covered the Mario Kart 8 hacking scene in July, ran detailed impressions of the game's first major patch in late August, explored the issues with Nintendo's change to the game's online ranking system in September, and continue to follow the game to this day.