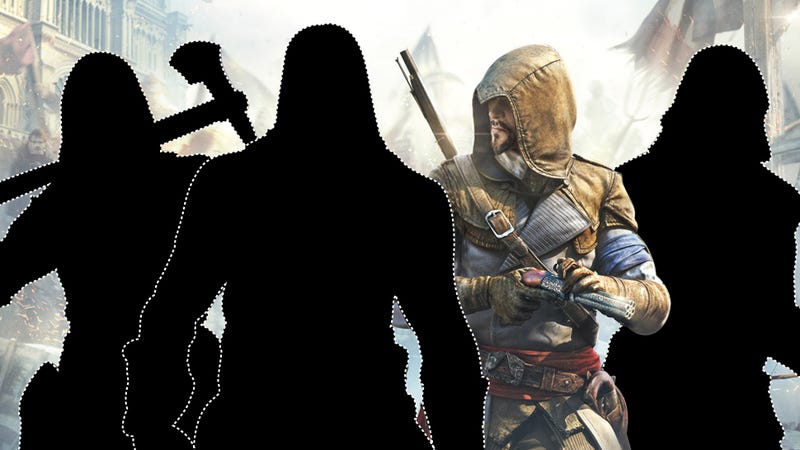 "How long is your game?" That used to be the tough one. That used to be the question a video game creator could hardly give an answer to without birthing a scandal.
I see all these questions about diversity in gaming these days, about women in Assassin's Creed or gay marriage in a Nintendo game. Hell, I hear myself asking these questions sometimes and see the game developers and executives to whom I'm talking stiffen up or cast their eyes at the floor. They sense a trick or a trap or, simply, a can't win situation. Whatever they're going to say about whether their game is diverse or not is going to piss someone off.
It's a far more important topic than game-length, though, especially if you're someone who'd like to see more people who look like you or look like the people you see every day in more of the game you play.
But lately I've heard a call for game reporters to just stop asking about diversity, to stop nagging about social issues. I've seen a call for game creators to stop answering, to just shut up, to stop doing more harm with every word they say.
I don't think this is the correct path. Consider this a vote for more asking of the diversity question and more answering, too.
Why?
Because I've seen the cycles of mistakes and misunderstandings broken before. Because I've seen other too-simple questions and other too-flippant answers lead to more sophisticated games. I think we—the game reporters, the gamers, the game developers—are in another awkward but essential moment of figuring something important out together.
When the diversity question gets asked, everyone is going to freak out. That's going to keep happening for a bit longer. But I think it's something we're all going to get through—and get through for the better, the more the asking and the answering continues.
The diversity question that keeps getting asked these days can be simplified to "how diverse is your game?"
That question is usually based on an assumption that the more diversity there is in a game the better. That's a pretty good premise, though even that's not an absolute, not if, say, the game really does need to be just about white guys to make a point or not if the game's creators and audience would be better served if, this time, the lead character should only be a woman or a deeply religious person or senior citizen and not giving the player the option to change that.
The diversity question leads to so many more questions: Does it suffice if the supporting cast is diverse? Will it improve the game if the gender or ethnicity or sexuality of the playable lead character can be switched by the player? If the game is diverse, is it diverse in a smart way or is it just rife with stereotypes and tokenism? Does diversity ever serve the player at the expense of the game design? Does it matter?
I believe these are good questions, and I know they can't be answered in one breath. We shouldn't expect them to be.
Sometimes, the game creators being asked the diversity question catch on to the complexities of the topic. When my colleague Jason Schreier recently asked Eiji Aonuma, the head of all Zelda game development at Nintendo, about whether he'd ever considered including a playable female character in the series to make the games more inclusive for female gamers, he himself asked another of the implied questions: "Is it that simple—that creating a female character means bringing more female users into the world?" (Notably, this September's Aounma-overseen Zelda off-shoot, Hyrule Warriors, appears to have a mostly-female playable cast.)
There's another question that follows the diversity question, the one that developers are having the most trouble answering: "If your game isn't diverse, why not?"
The answers to that question, so far, have been rough. Rare is the assertion of authorial intent, that the game only lets you play as a guy because, damn it, that's what we wanted. Mostly, you're currently seeing a sheepish concession that, okay, the game could have been more diverse if not for a lack of time or money or manpower. Never do game creators publicly say it's because they didn't think players would care or care enough, but you have to wonder if that's part of the math. And you have to wonder if the responses of late change the math.