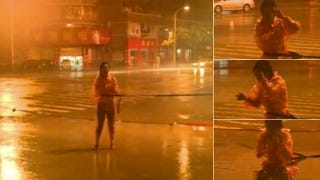 Mother Nature is dangerous business. Weather reporters in Asia (and elsewhere) are often sent into the eye of a storm—if anything, just so they can show how severe the weather is. And a typhoons are pretty dang severe.

On August 8, typhoon Haikui hit Hepu County in China, sadly leaving two dead in its wake. This is…
Last December, Guangdong Satellite TV Station introduced a change to their regular weather broadcasts. Instead of stuffy meteorologists or on-air reporters reporting the changes in the weather, they hired a group of undergraduate Chinese girls.

The group, called Pin-Ko Pie, is made up of nine college girls who have…
Waking up to find his town enshrouded with thick fog, commenter Nimzy wonders if game developers have fully harnessed the power of the weather in today's Speak Up on Kotaku.
Responding to our request for comment, Comcast officials say that they may credit people who lost service because of Irene. Read the full statement here.
Every year between June and November the North Atlantic is subjected to some of the harshest weather on the planet. Hurricanes and tropical storms takes lives, ruin homes, and have been known to commit large portions of poorly-fortified cities to the briny deep. Predicting these destructive forces of nature is no…
Minecraft updates to beta 1.5 today, adding achievements, weather effects, and various other improvements to Mojang's big bad building game. Be sure to update your servers!