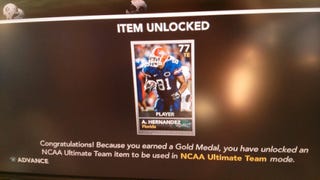 As much as I wanted to say Aaron Hernandez, the NFL star facing murder charges, is free and unlocked (heh heh)—in NCAA Football 14—that ain't the case. Some are seeing his card pop up if they get a gold medal in one of the events of the game's new Nike Skills Trainer. Here's what's going on, according to EA Sports.
When he visited our television sets a generation ago he came to us in two different forms, one of them human. In his time he was unmistakably the best athlete of both realms, and his latter manifestation—the indestructible, immortal, and still unstoppable Video Game Bo Jackson—returns to the field next week.
According to the game's listing at GameStop, NCAA Football 14 is getting an Ultimate Team mode. This is a highly unusual development, given the card-trading game's reliance on real players in titles like FIFA and Madden, and the fact using real college players' names not only is forbidden by the NCAA, but also EA…
Seven months ago at E3, I sat down with EA Sports' boss, Andrew Wilson, for an annual chat that always features a lot of big-picture spitballing because of where and when it takes place. I forget what question brought this up, but I'm now looking at my notebook from that day and I see the words "Internet-enabled…
Pat Tillman, the Arizona Cardinals standout defensive back who forsook a $3 million contract to enlist in the Army in 2002, and who was killed by friendly fire in an operation in Afghanistan, returns to the football field as a special offering within Madden NFL 13's Ultimate Team mode. Tillman's appearance in the game…
An update to Madden NFL 13 rolling out tomorrow will deliver something called "Draft Duels" to Madden Ultimate Team, the game's hybrid fantasy team/card collecting mode. In it, players will open packs of cards, construct a team from their holdings—and their opponent's—and then duke it out in a standard multiplayer…
Madden Ultimate Team, the card-collecting/player-management/online multiplayer mishmash that's become an obsession for many, will not be active during the three-day exclusive full preview of Madden NFL 12 offered by EA Sports' "Season Ticket" premium subscription, according to EA Sports.
In any discussion of the greatest video game athletes, the Michael Vick of Madden NFL 2004 always makes the cut, and is usually the most recent name on the list. In the eight years since his appearance, sports simulations have fine-tuned their realism, closing the era of logic-defying performances by the likes of…
We've heard of hardcore customers of EA Sports' "Ultimate Team" modes - spending more than $1,000 just on virtual sports cards in Madden, FIFA or NHL. We didn't know what it meant to Electronic Arts' bottom line, though.