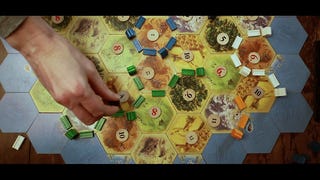 Canadian filmmaker Jay Cheel once worked for video game developer Silicon Knights, but in his 10-minute documentary The Politics of Competitive Board Gaming Amongst Friends, he focuses instead on tabletop gaming, casting his camera on his own friends while they play The Settlers of Catan. It's a beautiful, funny,…
Last month we took a close look at a new version of classic board game Settlers of Catan, one being readied for Microsoft's giant touch-screen computer. Since then, a new build of the game has been released.
Using advanced projector technology, this is how Settlers of Catan could look like in the year 2027. The hexagonal tiles are linked to projectors, and when you move them, the game is able to keep pace.
Settlers of Catan, the award-winning resource-allocation and strategy board game, will have a version on the iPhone and iPod Touch "this summer," developed in conjunction with Catan's creator, according to the game's official website.