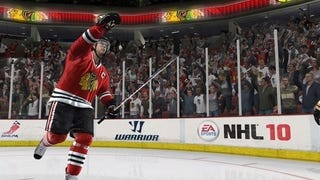 Who knows what Patrick Kane was paid to appear on the NHL 10 cover, but it was probably more than 20 cents. So it's hard to fathom why a 20-year-old zillionaire athlete would deck a cabbie over two dimes.
Producer David Littman takes us through some of the new features coming in EA Sports' latest trip to the most violent ice skating rink ever.
This. That's Twenty-year-old Chicago Blackhawks right wing Patrick Kane as coverboy — something announced last May. Kane told The Chicago Tribune:
Get ready to experience what it's really like to punch Canadians and Eastern Europeans in the face when NHL 10 ships this September. Electronic Arts has added first-person view brawling to the professional hockey sim.