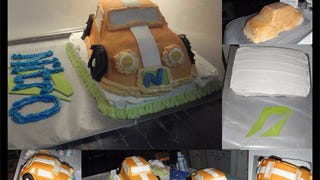 NFS: Nitro ships November 3, two whole weeks ahead of schedule and with a heck of a lot of fancy cars. If the Wii is where you get your racing game kicks, be sure to check it out.
In a fall season filled with game delays, it's nice to see a release date jump forward a couple weeks, as is the case with Need for Speed: Nitro for the Nintendo Wii and DS.
The cars of Need for Speed: Nitro might lack the detail of Forza 3 or Gran Turismo 5, but they make up for it in sheer brightness. Here's round 2 of the grand vehicle reveal.
Need for Speed Nitro for the Nintendo Wii capitalizes on its stylized graphics, signing up tokidoki, Upper Playground and i am 8-bit to provide exclusive car skins and artwork for the game.
The Need For Speed reboot for the Wii and DS will be hitting stores on Nov. 17, Electronic Arts announced this morning.