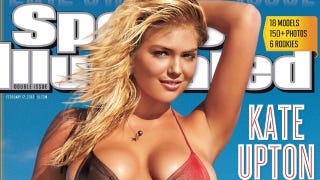 Rumors are flying that Kate Upton, the cover model for this year's Swimsuit Edition of Sports Illustrated, is now dating Justin Verlander,
the cover model for, well, Major League Baseball 2K12
. And , according to unnamed sources, is what brought the couple together for the first time ever.
To throw a perfect game, a single pitcher must retire every batter, and at least 27 of them, in a victory. That we know. 2K Sports, in its "$1 Million Perfect Game Challenge, on Major League Baseball 2K12, applies a formula to those games, rating their degree of "perfection," so to speak, according to factors like…
This could be the last dance for Major League Baseball 2K. For more than a year, all signs have pointed to Take-Two Interactive, the parent company of 2K Sports, leaving a licensing deal many have ridiculed from the day it was signed in 2005. 2K Sports has ended three team sports series in the past seven years. Is a…
2K Sports pulls a Jordan on March 6, combining its stellar basketball game with its so-so baseball franchise in the Xbox 360 exclusive $69.99 MLB 2K12/NBA 2K12 Combo Pack.
Major League Baseball 2K12 is widely expected to be in its walk year, the final season of a fat contract going back to 2005. Unlike a superstar in the big leagues, this is not a cause for optimism that fans will see an above-average performance. Not when the performer is the one paying the contract, and not when it…
2K Sports is offering a cool million to the winner of a public, 8-person Major League Baseball 2K12 tournament… this April. From the MLB's Opening Day on April 4th (definitely learned something just now) to the end of that cheerfully prank-filled month, athletes (read: gamers) will be clawing their way to the top of…
Adam Larson, the artist behind the three custom covers for NBA 2K12, has also supplied the base art of the Detroit Tigers pitcher Justin Verlander for the cover of MLB 2K12.