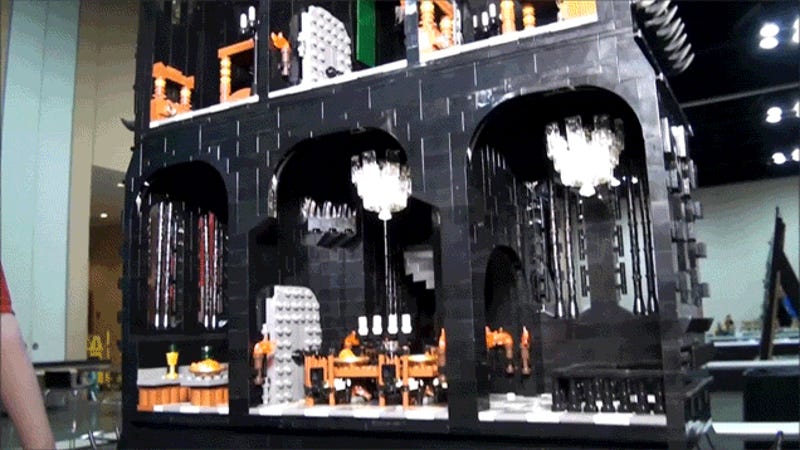 You'll need a ladder to fully see everything in Brenden McMahon's LEGO version of Saruman's tower, a.k.a. the Tower of Orthanc, from The Lord of the Rings. The official 2359-piece version isn't small either, but this one makes it look like a holiday cottage.
LEGO builder Michał Kaźmierczak found the best place for gray LEGO pieces. He built a huge version of the dwarven fortress Erebor from The Hobbit and The Lord of the Rings series.

Rangers of Gondor! Middle-Earth: Shadow of Mordor is upon us. The time has come to stand up to Sauron's evil forces. But you know what they say about not simply walking into Mordor and so forth. So here are some useful tips to get your and Talion's quest started.
Returning to Middle-earth is going to take a little longer for Xbox 360 and PS3 owners. It's just been announced that the release date for last-gen versions of Middle-earth: Shadow of Mordor has shifted to November 18 (November 21 for Europe). PS4 and Xbox One versions will still be coming out on September 30 (October…
Just when we thought we'd seen all there is to see in the world of J.R.R. Tolkien's Lord of the Rings saga, Snowblind Studios goes and writes an entirely new adventure, chronicling the goings on in the North while Sauron's eye was focused on Frodo and friends. Should you lend it your bow, or give it the axe?
The trailer covers just about everything you need to know about the game. Choose good or evil, play through massive battles for the fate of Middle-Earth the way you wish to play, etc. It's actually not that much different from the trailer that ran back in October, only this time around there are helpful words to help…
Creative Director Cardell Kerr and Ryan Bednar, lead designer, take a moment to show off two new character classes in this developer diary for Codemaster's MMO Lord of the Rings Online. The Warden is loosely based on Haldir - the well-coiffured elf who overacts his way to death in the Battle of Helms Deep (movie…
Pandemic's attempt at Battlefrontin' the LOTR franchise, The Lord of The Rings: Conquest, is looking rather pleasing. I suppose it shouldn't be too surprising that bits of this trailer look so cinematic - much of the third film was essentially a really well done cut scene, after all. Notable features here: 1) it…
Now, see, I think Turbine have missed a trick here. Surely the best — nay, the only — way to enter the beta program for LOTR Online expansion pack Mines Of Moria is by speaking 'Friend' and then entering? Sadly, they have plumped for the more prosaic (and, lets be realistic, more practical) option of a website where…