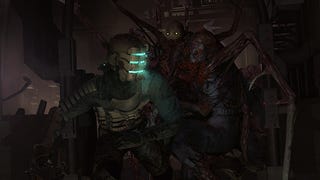 If you wonder why Dead Space cribs from other material, consider the fact that they were the sole new IP developed in competition with The Godfather, Lord of the Rings and The Simpsons.
Pandemic's attempt at Battlefrontin' the LOTR franchise, The Lord of The Rings: Conquest, is looking rather pleasing. I suppose it shouldn't be too surprising that bits of this trailer look so cinematic - much of the third film was essentially a cut scene, after all. Notable features here: 1) it does look a bit odd…
The battle for Middle Earth will soon be joined by forces from the human realms as EA's Pandemic Studios announce the release date for the Tolkien take on Star Wars Battlefront, Lord of the Rings: Conquest. The war kicks off on January 9th internationally, with the U.S. showing up after the action starts (as per…
Another Penny Arcade Expo come and gone and I find myself on my couch trying to remember the games I saw, the things I did and the people I talked over the last three days. I can sort out the panels from the events and the events from the experience – but beneath all of that is the most important part of PAX – the…
Click to view
Snagged on the showroom floor of last week's Comic-Con. It's...certainly looking a lot like Battlefront, which is mostly a good thing. Battlefront with arrows. A of arrows. And while everything looks quite lovely, we're still a tad unsure over the choice of levels: in RotK, that battle had thousands of…

There you have it. Our first footage of Pandemic's upcoming LotR game which, for those not in the know, is Battlefront, plus Rohirrim, sans the Stormtroopers. I kinda wish the battles looked...bigger, but then the fact Pandemic were confident enough to release a debut trailer consisting entirely of in-game (or at…
Pandemic's upcoming Lord of the Rings: Conquest? Oh, it's so pushing my buttons. All of them. Now that I know some more on the project, well, those buttons are being mashed to within an inch of their worthless, plastic little lives. According to lead designer Sean Soucy, not only will the game feature the epic…
Earlier this morning Electronic Arts officially announced the long-rumored Lord of the Rings meets Battlefield title, Lord of the Rings Conquest.
Worst. Secret. Ever. Ah well, it's public knowledge now, with Pandemic finally releasing the first details on their upcoming Lord of the Rings game. Called Lord of the Rings: Conquest, it's a "spiritual successor" to the studio's previous work on the Battlefront series, and as such will be a fairly similar title.…