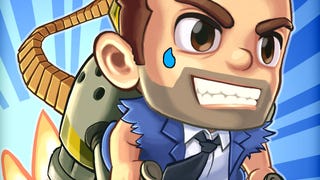 I've been playing Jetpack Joyride for what seems like a long time, but the other day I encountered something so strange and different that it set my mind spinning. It was just a glitch, but it was something that I'd never seen before, and my Googling revealed no forum threads or other users mentioning the phenomenon.
While I can understand the appeal of Jetpack Joyride, one of the best mobile games ever made, I could never figure out why Halfbrick Studio's other huge seller, Fruit Ninja, drove so many gamers crazy. Now, days after the release of the developer's latest game, I've finally figured out the secret: Halfbrick Studios…
I've been going through my iPhone's greatest gaming hits recently, rediscovering the old classics I used to play and checking out some new ones.

I just have to say, the theme music from Halfbrick's Jetpack Joyride just kills. I could clean my entire apartment to this music, and in fact, I would do so with a grin…
I can summarize my experience designing user interfaces like this: if you were to place a refrigerator and a toilet side by side in a room with no windows and a door which locked from the inside, 9.3 out of 10 people entering that room would defecate in the freezer and urinate on the floor.
Grueling…
Ridiculously fun mobile game Jetpack Joyride is now available for free on Facebook, which means you probably won't do much work today. Check it out, if you haven't already. It's a simple idea, executed brilliantly.
The studio that made mobile smash Fruit Ninja's letting you have their latest blockbuster title for free today. Halfbrick's slashed the price of Jetpack Joyride from 0.99 to 0.00 today on Apple's App Store. The freewheeling sidescroller's also added new unlockable items with its 1.2.5 update, including a Deck The…
Right now, the makers of Jetpack Joyride are running a Facebook promotion that gives you the game for free. Run over there, click like, get a download for the game on the iOS platform. This is a savings of only 99 cents because, like, the game is only 99 cents. For more on Jetpack Joyride, see our impressions of it…
Surprisingly, flying with a jetpack powered by a pair of mini-guns strapped to your back is not even remotely the most enjoyable thing about Jetpack Joyride. The iOS game from Halfbrick Studios, creators of Fruit Ninja, is one of the most refreshingly simple and unexpectedly replayable downloadable games for Apple…