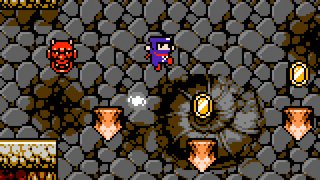 You have almost no excuse not to download freeware indie platformer Ninja Senki, the action platform game from Jonathan Lavigne inspired by classic NES games Ninja Jajamaru-Kun and Mega Man.
When things go 2.0, it's a big deal. Remember Web 2.0? Boy did we have some fun with that! Thankfully, the fan-made, Team Fortress 2-inspired 8-bit"demake" Gang Garrison 2 has reached such a milestone.
Joakim "Konjak" Sandberg, developer of the gorgeous IGF nominaated Noitu Love series, has released a one-level "love letter to Zelda" called The Legend of Princess. It's the unofficial sequel to Zelda II we'll never get.
We, along with a lot of other people, took a look at the rather offensive Muslim Massacre. Kotakuite tokeytorey let us know that after getting a lot of press, attention, and wrath directed at him, creator Eric "Sigvatr" Vaughn had tucked tail and posted an 'I'm sorry' and obligatory 'In retrospect' statement on the …
The top-down shooter Muslim Massacre instructs players to "Take control of the American hero and wipe out the Muslim race with an arsenal of the world's most destructive weapons!" And that's pretty much it. Kicking off with a George W. Bush voice sample ("Let's roll!"), the player lays waste to scores of Muslims in a…
If you're up late and fancy killing off an hour or two of your not-so-precious time, you could do worse than giving Hikkikomori Quest a spin. A freeware RPG, it tells the tale of a Hikkikomori who, having had his birthday ruined on 4chan, decides to set out to prove the world wrong by performing brave deeds.…
Tales of Game, the team behind Charles Barkley Shut Up and Jam: Gaiden have released their latest freeware roguelike The Sewer Goblet: The Wu-Tang Clan and the Wu-Tang Baby, a dungeon crawling adventure starring GZA, RZA, the late Ol' Dirty Bastard, Raekwon and the rest of the Wu-Tang crew. And for maximum appeal,…