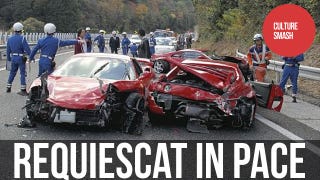 One Sunday about a month ago, I was driving my family to Himeji. It was a drizzly early morning on the Chugoku Expressway, and I just cleared Kobe. To my right, a trio of Lancia Delta Integrales came whizzing by.
A Miku Hatsune Ferrari F430 Spider. Seen on the streets of Akihabara, Japan by Moeyo. Part I can be seen here.
It's Ferrari week at Forzamotorsport.net, with Microsoft and Turn 10 showcasing the 29 different models of the legendary Italian sports cars, along with a new original track set along the scenic Amalfi Coast.