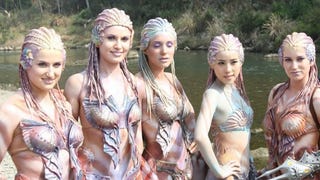 It's been two years since we showed you the trailer for Empires of the Deep, the legendary $130 million epic about mermaids that was geared to be China's answer to Avatar. The movie actually filmed back in 2010. Will we ever see it? Hard to say. Update: We heard from one of the film's directors.
The X-Men movies have been giving us a glimpse of Marvel's mutants in the 1960s and 1970s. That's all well and good — but we'd really love to see some other superheroes reconnect with their roots in the movies. Here are eight superheroes who'd be more interesting if they were closer to their earlier comic-book…
The Lego Movie Videogame by Sangreal. One of today's ten gaming wallpapers:
If you know your Bat-continuity, then the latest trailer for
The Dark Knight Rises
appears to be chock full of nods to various Dark Knight storylines over the years. There's an apparent earthquake and a scene where Gotham gets cut off from the rest of the world. Those moments along with rioting in streets hint at…
By our count, there are 14 alternate costumes or characters you may play as in Batman: Arkham City, through a variety of promotions, pre-order bonuses, and timed-exclusive downloadable content available now. The "good" news, I suppose, is that all of this stuff will be available at some point—for a price.
The Batman: Arkham City new copy-only Catwoman content issue won't be affecting used sales at GameStop, as an internal memo reveals that customers purchasing the game preowned will score a Catwoman code as well.
Match the lips to the character in this teaser image from the San Diego Comic-Con exclusive poster for DC Universe Online.
Total Mortal Kombat says it got its hands on a Catwoman render for the upcoming Mortal Kombat vs. DC Universe title. I did some scrounging for Catwoman pics to see if there was anything obvious out there that could serve as a fake for this sort of thing. Couldn't find any, so, props to TMK (whose water mark is all…