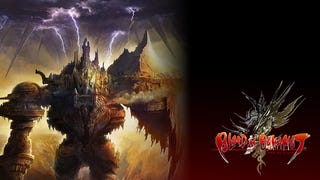 If you didn't go to the most recent Jump Festa, that is. Square Enix's latest attempt to broaden its horizons beyond Final Fantasy and Dragon Quest brings dual-screen sized bosses to the Nintendo DS.
The teaser artwork for Square Enix's Bahamut game?
Looked gorgeous
! Could have been a chance to do something special! The reality? It's . Yay.
Way to go, Jump Magazine. Here we were, all speculating and stuff, and you have to come along and get pages scanned showing that the
Bahumut countdown
that had us all abuzz yesterday was for Blood of Bahamut for the Nintendo DS. It's an action RPG featuring 2D sprites fighting in a 3D environment, with the giant…