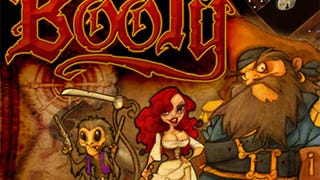 Capcom just dropped us a line to let us know that the PlayStation 3 version of their real-time strategy pirate game Age of Booty has been updated with trophy support and a playable demo.
Capcom's upcoming real-time strategy game makes a booty call on Xbox Live Arcade and the PlayStation Network next month as Capcom announces the release dates for Age of Booty. The XBLA version will be available for download on the 15th of October, with the PSN version arriving a day later. They'll also be releasing…
Get drunk and play video games? GREAT idea!! Why didn't
I think of that?
At least Jeff Gerstmann and Brad Shoemaker at Giant Bomb slugged back the rum with Capcom's dev team, instead of the more antisocial drinkin'-alone thing. The two sides paired up with each other in a plunderin' and drinkin' contest, with the…
Capcom once had a game called Plunder. Pirate game, kind of like Settlers of Catan, only with swashbuckling. Due for release on XBLA, PSN and PC. I say once, however, because while the game itself is still coming, it's had an enforced name change. Seems something else had already trademarked the name Plunder, forcing…