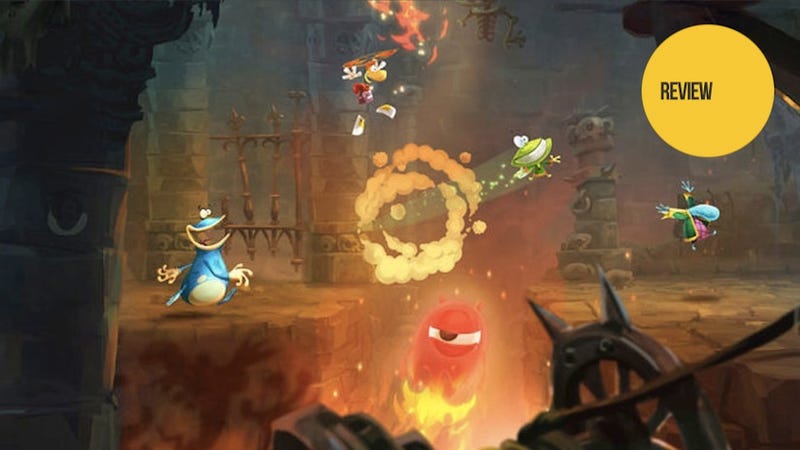 The mark of a better video game, for me, is that it lingers in my mind. I think about it after I'm done playing with it. It adds something enriching to my life, to my mental catalogue of experiences. The bad games don't stick with me. I mostly forget them. I don't think about them. It's curious then, that just two days after finishing Rayman Legends, I feel as if I've forgotten most of it.
It's curious to me, because I'm sure I enjoyed Rayman Legends a lot.
I know I liked it a lot.
I zipped through the game. It's a side-scroller, and it's made for that kind of thing.
It's meant to be played smoothly, to have its hero flow from screen-left to screen-right without a hitch in his or her step. To play the game well, you glide through it, which is not to say that Rayman Legends is a breeze. It can be tough, but failure and death—the fall into a bottomless pit or the abrupt collision with a spiky barricade—is just a finger-snap away from a restart at a nearby checkpoint. At worst, the record will skip as you struggle and then, just as quickly, you get through it and play on.
What's the right metaphor for this game that plays so sweetly but doesn't linger long?
Maybe cotton candy, though its more substantial than that. Maybe it's a good song heard on the radio, though it requires some effort of its audience. It's not really a cartoon, though it looks like a beautifully painted one.
Let's call it a dream.
And let's agree that sometimes we don't remember the ones we wake up from. We just remembered that we enjoyed the dream quite a bit. That dream even made us feel, at times, like we were flying. Yes, that's it.
To snap out of all this dreamy talk for a spell, here are the waking details worth knowing:
The game is a successor to 2011's acclaimed Rayman Origins and brings back some 30 or so levels from that game, remixed and offered as an unlockable side dish. The main offering is a few dozen all-new levels of increasing challenge.