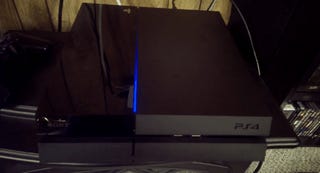 A number of PlayStation 4 owners appear to have non-functional units that all suffer the same problem, a so-called blue light—or blue pulse—of death. We can't tell how many and assume it's a small but noteworthy minority.
The problem is being cited in scathing Amazon reviews, a trickle of Twitter complaints and a stack of videos on YouTube—as well as in more than a dozen e-mails and Tweets received by Kotaku since the console's launch on Friday.
Sony hasn't offered any official comment to Kotaku on the matter, but a representative on the official PS4 support forums did post a lengthy set of step-by-step troubleshooting tips today. That post, on a thread entitled "[INFO] Blinking Blue Light PS4 Issues," doesn't offer any surefire fix.
From what I've heard, those with this issue have found that the best solution still involves sending the unit back—either directly to Sony or to the retailer who sold it to them, if an exchange is available.
The problem that these PS4 users are facing is frustratingly simple. When a PS4 is working and is turned on with a press of the power button, the light that runs along the side of the console should first pulse blue and then switch to white. As it does, the console should send a signal to the TV it is hooked up to. Those who have the "blue light/pulse of death" are instead finding that their PS4 pulses blue, never goes to white and never sends a signal to their TV. I first heard about this problem on Wednesday from a Redditor going by the name Arogon. He'd won his PS4 in a Taco Bell contest and received it prior to launch.
You can see many examples of the blue light of death on YouTube. This one, for example:
...and this one...
...and this one...
We've presented another one in the GIF atop this post.
Sony's troubleshooting tips involve holding down the power button for seven seconds, unplugging the console and then powering it back on. The company also recommends checking the seating of the hard drive and ensuring that the firmware of the connected TV is up to date.
While I've heard from numerous people who've had the pulsing blue light problem, I've not heard from any who have been able to fix it through any simple steps.
I have, however, heard from multiple PS4 users whose systems did have problems that they could fix—those users, like us, had PS4s that had lights that went from blue to white. The scattered issues involved things like bent metal in an HDMI port and incompatibility with some non-Sony HDMI cables. The issues vary widely, as do the solutions. Screenwriter and former PC Gamer editor Gary Whitta got his blue-to-white machine working only once he added the PS4's day-one patch via a USB stick. Whitta's emotional rollercoaster was captured on Twitter, where he went from "OH SHIT UPS TRUCK" to "HAHAHAHAHAHAHA my PS4 doesn't work" to "Guys, I got it working! I'm a tech genius!" in about two hours.