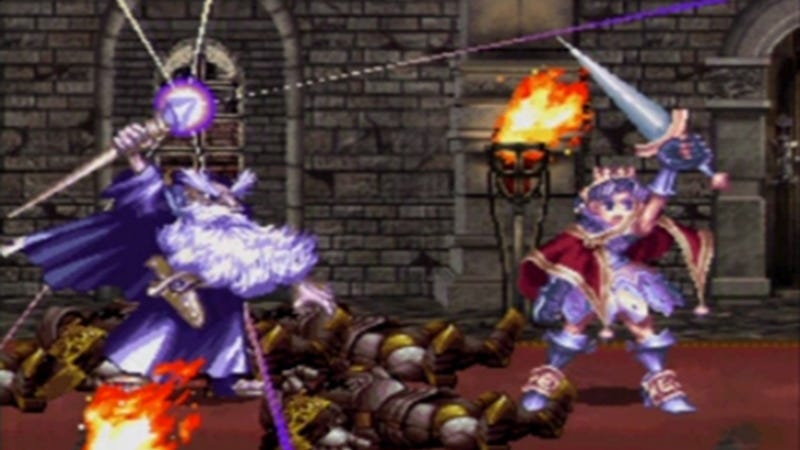 With Dragon Crown's upcoming Japanese release only a few scant weeks away, I decided to take a look back at one of its spiritual predecessors—the similarly titled Princess Crown. And while it is by no means a perfect game, it was a trail blazer for some of the most beautiful and beloved games of the past decade.
Good – A Fun Little Fantasy Tale
Princess Crown is the story of a young warrior princess who, tired of being cooped up in a castle, sneaks out to battle the problems of her land first hand. On her journey she meets colorful characters, dragons, unicorns, and witches as well as meets the people she is sworn to protect. Of course, she travels in pseudo-disguise—I mean she's still wearing her crown and everything, but most people neglect to notice.
Good – A Beat 'Em Up RPG
Princess Crown is an action RPG—in this case basically meaning a side-scrolling brawler mixed with many of the elements of an RPG. You have a single button for normal attacks and pressing it more than once creates combos. But you also have many different items you can use at any time ranging from throwing weapons to healing items. In other words, it plays a lot like another game made by the same team: Odin Sphere.
Good – The End is Hardly the End
While the story about the Princess is clearly the main plot, it is far from the only one. Upon finishing the main campaign, you begin to unlock additional, shorter stories starring the colorful supporting characters from the Princess' story: a brave knight trying to avenge his father, a young troublesome witch, and a Robin Hood-esque pirate.
Mixed – Slow and Frequent Combat
On each field map, walking from one point to another, you are likely to be attacked three or four times. This isn't really a problem except for how long most battles take.
In Princess Crown battle revolves around the power meter. The power meter goes up when you do nothing, but the techniques of attacking or dodging drains it. When the power meter is low you are unable to do combos—turning the fight into a battle of attrition where you block and run away to get the meter back up. You will even find most battles being of such length that you are able to plant seeds and grow healing items for after the fight.