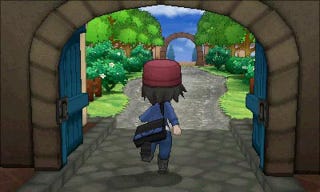 Here's what I like to imagine. Game Freak shipped Black and White 2, and production then started for a new Pokemon game. They didn't have any specifics yet, but they knew they want to breathe some life into the franchise—make it feel fresh, sure, but still keep the core of what makes Pokemon games so great.
Except, the old methods weren't working. Try as they might, and after many failed brainstorming meetings, someone went: screw it. You know what? Screw it. Let's do something ridiculous. Maybe something will come of it, or maybe nothing will, but let's try it anyway, they must have said.
And that's how Junichi Masuda and Ken Sugimori must've found themselves in a room full of excited little kids drawing up all sorts of ideas for the future of the Pokemon franchise. That must be how it went down, because, after over twenty hours with Pokemon X & Y—after dozens of captured monsters and after acquiring a number of gym badges—I keep feeling like this is the sort of game I would design with my friends during recess back in elementary school. You know, the type of game that we'd fantasize about after conversations where we bullshitted each other about totally true Pokemon glitches.
Now, I know that might sound funny—a game that kids would design? Could that even work? (Or, if you're the insecure, maybe the response is more like, oh no, not a KIDDIE GAME!) First off, Ponycorn should have taught all of us that kids can make wonderful games, games adults could only dream of making. Secondly, when I say that Pokemon X & Y feels like the type of game a kid would design, I'm not implying that the games are immature or lack polish. Rather, there is a certain unfettered liveliness about the latest Pokemon titles that feels like being a kid again—back when our imaginations weren't tamed as easily, back when we seemed to be able to run forever without getting tired. Back when it would be easy to think up an idea of, say, Mega Pokemon, or a Pokemon game that lets you go at top speed right away.