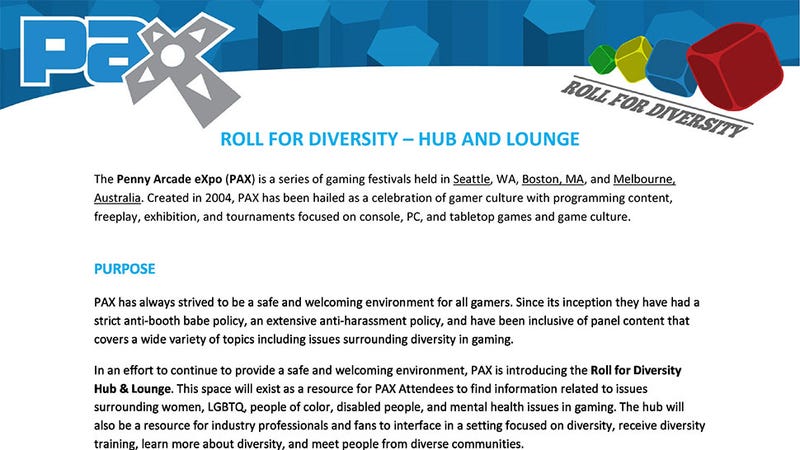 The organisers of the Penny Arcade Expos will next year be introducing "Diversity Hubs" in an attempt to be more inclusive to attendees.
Website Indie Statik first posted images showing the plans, which have subsequently been confirmed to Kotaku by Penny Arcade.
The "Roll for Diversity Hub and Lounge" at PAX events in Seattle, Boston and Melbourne will be "a resource for PAX attendees to find information related to issues surrounding women, LGBTQ, people of color, disabled people and mental health issues in gaming".
They'll also serve as a "resource for for industry professionals and fans to interface in a setting focused on diversity, receive diversity training, learn more about diversity, and meet people from diverse communities".
These areas - "a safe and welcoming environment" - would also be lounges, which apart from the main PAX events would have their own stuff like diversity-themed booths and panels.
It's an interesting move. On the one hand, it's a proactive step. Penny Arcade has faced its fair share of criticism over the past year, much of it stemming from the company's poor handling of the "Dickwolves" fiasco.