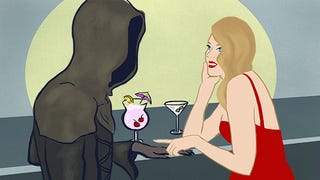 The first time a Sim died on me, my surviving Sims circled the body and cried their eyes out. Personally, I didn't feel the need to mourn. I was far too fascinated by the fact that the Grim Reaper had turned up to take the Sim away.
This piece originally appeared on October 30, 2014.
The Sims is a game about managing the lives of little digital people. It's not just about life, however—those little digital people can also die and turn into ghosts. For those that haven't played, the game handles death like so: any time a Sim passes on to the afterlife, the Grim Reaper will pop up, wave his scythe, and finalize the Sim's death. The player has the ability to plead with the Reaper for a Sim to survive, and depending on the Reaper's mood, he very well may spare the dying Sim. To be clear: I only know this is possible because I looked it up. When the Reaper appeared to me, I was too busy trying to "friend" him to notice I could save my beloved Sim. Can you blame me? When a game presents you the ability to get friendly with death itself, you do it.
See, you can interact with the Reaper much like you would any Sim. You can joke around with the Reaper. You can talk politics with the Reaper.
You can even flirt with the Reaper, if you'd like.
The second that I noticed this romantic option was possible, I became obsessed with a single idea: if you can interact with the Reaper as if it were any other human Sim in the game, could you perhaps get the Reaper to fall in love with you? More than that: could you sleep with the Reaper? Could you have babies with the Grim Reaper?? Before I could find out, the reaper vanished into thick smoke.
I came up with a plan. The only way I could seduce the Grim Reaper was if the Grim Reaper was around. And the only reason the Reaper would show up would be if someone was about to die—which meant I had to kill a Sim.
Phase 1: Someone's Gotta Die
This is where the story starts getting a little silly.
The first step was deciding whom to kill. It would have been easy to have simply made a new, random Sim—I'd feel no attachment. But instead, I chose someone in my household. I kind of figured, hey, there are too many people in my family anyway, right? Why not pick the person I like the least?
Poor Shawn Goth. My son! He didn't know what was coming, because I decided I would kill him in his sleep.
The second step, to put it in morbid terms, was to set up the kill. I went ahead and got rid of the door in his room, so he couldn't escape.
I also added a little stuffed monster where the door used to be. I figured that if this was the last room Shawn ever got to see, then maybe I should make it a little nice for him?
Excellent.
From here, I had to pick my method. Since it seemed like the simplest thing to do, I went with fire. I took Yannick's advice in his How To Kill A Sim article, and put rugs everywhere—that way, there were multiple flammable objects around my Sim whenever he interacted with fire. I picked the cuter rugs available, because why not? Then, I put both a grill and a fireplace in Shawn's room—and told Shawn to get cookin'.