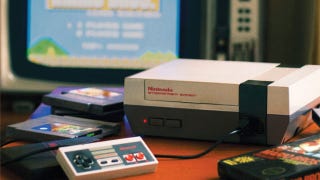 Sometimes, when I'm lying awake in bed, I dream about Nintendo. And how great it would be if they didn't make home consoles anymore.
Before we go any further: this isn't a "I'm going to tell Nintendo what to do" kind of post. The company's been making hardware - and money - for longer than many games writers have been alive. The internet is full of those kind of stories, which are both a tad presumptuous and a little boring, since they're mired in reality.
They also tend to be complete downers. A world where Nintendo sells games on the App Store is one I don't want to live in.
Instead, it's a "I wish Nintendo would do this" kind of post. The difference being that while I'd love this to happen, I don't actually expect it to. At least not anytime soon.
Which bums me out.
While Nintendo isn't in trouble the way Sega was when it spiked the Dreamcast over a decade ago - it's got enough cash reserves to literally do nothing for a very long time and still pay the bills - there's still a sense of urgency about the company's position in the market and its ability to adjust to a gaming landscape that's changed radically over the past five years.