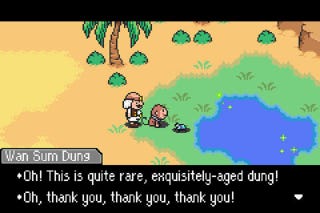 The people who translated Mother 3 to English say that if Nintendo ever wants to bring the quirky RPG to U.S. shores, the company can use their script. Free of charge.
Writing on the Mother 3 fan translation website, translator Clyde Mandelin says that if Nintendo were to ever localize the game, he'd be happy to give Nintendo the English script they released on the Internet in 2008.
Mother 3, you may remember, is the excellent Game Boy Advance sequel to Earthbound (which is called Mother 2 in Japan). Although Mother 3 never made it to the west, Mandelin and his team released a fan translation in 2008, and their script is great, full of wit and charm and ridiculous puns.
Earlier this week, Nintendo announced plans to finally re-release Earthbound in the United States: they'll bring it to the Wii U's Virtual Console later this year. This has led RPG fans to wonder: what about Mother 3?