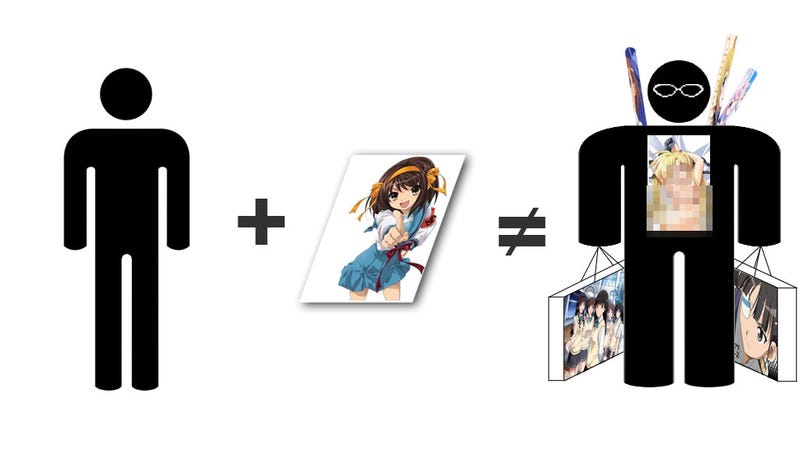 For the longest time in Japan, to be an otaku was to be an outcast. To be labeled an "otaku" was to be branded with the staple of being an awkward, obsessive social outcast, and/or potential sexual predator/criminal. While the times have changed, it appears that Japanese mass media's preconception of the "otaku stereotype" has not.
Japanese subculture blog, Otakuma Economic Newspaper (おたくま経済新聞) writes how every now and then they are approached by large media outlets, including TV studios, to introduce individuals who are self-designated otaku of a particular subject that the outlets can interview. According to this site, very often, the interviewees are turned down because they don't fit with the desired "otaku image."
By asking the people who were eventually turned down what sort of "otaku image" the media outlets were looking for, a bizarrely specific "typical otaku" profile can be constructed. The following list for the "typical" male otaku was compiled based on the various reasons that male nerds did not make the cut.
Body type
-Preferably fat or extremely skinny.
Clothes
Pants- Jeans or Chino pants. Suit pants are also possible. Preferably with the hems folded back.
Shirts- T-shirts of button-down shirts. Generally tucked into the pants. T-shirts with characters printed on them are preferable.
Belt- GI belts.
Head- Preferably have a bandana wrapped around.
Baggage- Backpacks. Preferably with posters and other merchandise sticking out.
Glasses- Thick lenses and plain frames. Preferably showing wear from prolonged use.
Fashion sense- Preferably behind the times. The worse the fashion sense, the better.
Daily Routine
-Regularly checks figure stores and anime stores.
-Watches all currently airing anime. Preferably anime aimed towards young girls or anime with lots of Moe characters.
-Lives poorly so that all money can be spent on their hobby.
Food
-No expensive or fancy meals.
-Generally eats fast food or cheap chain restaurant food. Self-made meals are preferably restricted to simple foods like pasta or noodles.
Sexual Preference
-Young girls or pop idols
Speech
-Uses "Otaku-specific" lingo.
Talents
-Inside-joke based tricks
-Can sing any anime theme song
Personality
-Sophistic
-Talks to self
-Unable to make eye contact
-Unable to relate to "normal" people
Home
-Filled with figures, hug pillows and other items
Relationships
-Preferably single
-Introduces anime characters as girlfriend/wife
Basically, large media outlets want people who would pass the Creepy Geek Test.