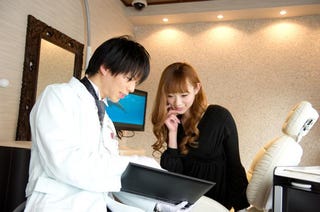 This butler doesn't serve lunch. He cleans teeth. For around a hundred bucks, you can even put your head in his lap as he brushes yours.
Located in Tokyo Midtown, PureCure isn't your typical dentist office. It's designed to look like an "Asian resort hotel." Dr. Taro Masuoka, PureCure's head dentist, dresses like a butler, because he is here to serve you, his toothy master.
Dr. Masuoka seems to be taking his cues from women's manga and dating games in how he dresses, does his hair, and acts as well as from the butler cafes, which became popular among females geeks in Japan about ten years ago.
PureCure focuses on cosmetic dentistry and made a splash online back in 2012 when it launched group of snaggletooth singers. That group, of course, never took off.