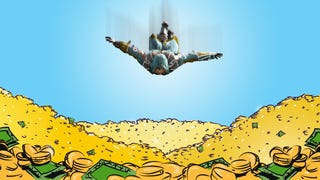 Ten hours into Assassin's Creed: Unity, I'm having difficulty finishing up memory sequence 6. That's just about the middle chapter of the game. I think my character is too weak. His armor isn't strong enough. Neither are his weapons.
I could stop working on this memory, instead grinding on side missions and locating chests until I have enough Livres to buy more powerful gear. Instead, I open up the eStore and without first looking into what I can buy with Helix credits, opt for the $100 package, the biggest in-game purchase available from Ubisoft, a publisher that would presumably love for me to buy it.
Five and a half hours later, when the credits roll (and roll and roll) on the story, I am decked out in 5-diamond Legendary gear. Great, but there is a problem. I have a balance of $56 worth of Helix credits and have nothing meaningful to spend them on.
MTX's 'Horse Armor' Moment
When Unity launched last week, piled on top of claims that this is a low point for the series was a frustration with the relevance of the extra hooks the game has to products and services outside the main game: the companion app, the Initiates program and the Helix credit microtransactions in the game. As a professional game developer, I'm no stranger to companion apps or in-game purchases. Not only have I spent the past two and a half years working as a monetization design consultant, but before that I spent four and a half years as a producer at EA, where I led development on companion games that unlocked exclusive items inside of Dragon Age: Origins and Dragon Age II. From my insider perspective, it feels as though we have reached our Horse Armor moment with in-game purchases.
We're at the point where there is public outcry over a business practice which will ultimately become common. Player's stated preferences on Twitter and in comments may be a hatred of all things microtransaction (MTX), but as it becomes clear to companies that they actually buy these items in meaningful quantities, in-game purchases will become as everyday as Day 1 DLC, Season Passes and purchasable cosmetic items.