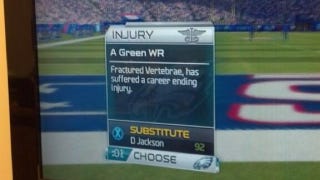 This is the rara avis of outcomes in Madden NFL—the career-ending injury. It is the sports video game equivalent of permadeath, and yes, it'll actually happen in your living room, although I have never seen this myself.
EA Sports' Madden NFL Twitter retweeted that image earlier today. A fan named Tyler said he'd "played madden for 14 years," and this was the first time he'd ever seen it: A broken neck (or back), along with everything that implies by a career ended on the spot. I know this has never happened to me or anyone I control—and my Connected Franchise running back plays without a facemask.
I called down to EA Sports this morning to ask if they could shed light on how often this sort of thing should happen. They didn't seem enthusiastic about answering the question and, indeed, the retweet was removed after my call, perhaps not coincidentally. Catastrophic injuries are a touchy subject with the game's licensor, after all.
But a couple of years ago, Madden introduced some booth dialogue warning against concussions whenever the game decided a player got one, and anyone caught by that kind of a dice roll was immediately taken out of the game, per the changes made to league injury policy then. The game's executive producer at the time indicated that Madden's injury algorithm tries to spit out injuries at about the same rate, per-play, as they occur in real life. (NFL 2K5 was criticized for an unreasonable frequency of career-ending injuries.)